Memberships & Awards
Boyer Building Corporation has been a premier home builder and full service remodeler in the Minneapolis area for more than 60 years. Our company is steeped in a tradition of superior craftsmanship and service, passed down through four generations. This tradition is backed by our various membership and awards from the build and remodel industry.
Association Memberships
Boyer Building Corporation is a proud member of these national, state and local associations. As a member of these groups, Boyer Building Corporation subscribes to a defined code of ethics and conforms to performance standards for construction and business practices.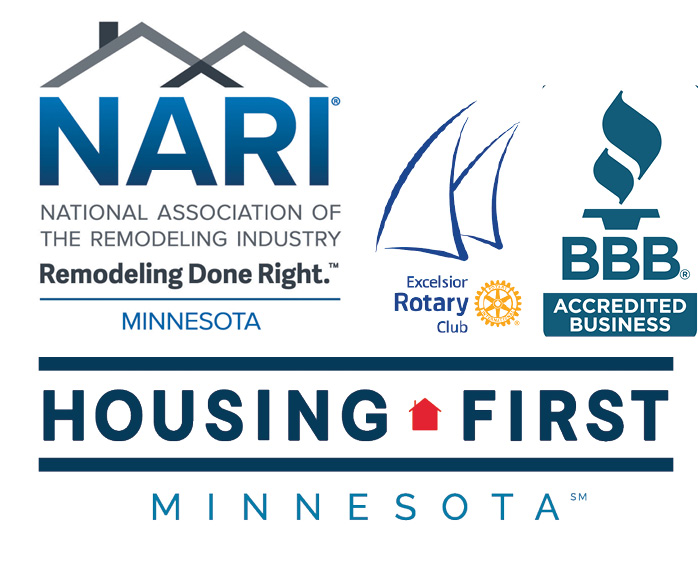 Housing First Minnesota
NARI
NKBA
AIA
NCARB
Various Chamber of Commerce organizations
Better Business Bureau – A+ Rating
Excelsior Rotary
Southwest Metro Chamber of Commerce
Eden Prairie Chamber of Commerce
Parade of Homes sm
Boyer Building is licensed through the state of Minnesota and comply with the rules, regulations, and continuing education requirements set by state statute. We participate in annual building association events, including the Parade of Homessm.
Awards
As recipients of several awards, Boyer Building Corporation continues to have a strong presence in the fine art of designing, building, and remodeling homes. These awards include:
2023 – NARI-MN CotY Award, Silver: Commercial Interior
2023 – NARI-MN CotY Award, Gold: Residential Addition Over $500K
2023 – NARI-MN CotY Award, Gold: Residential Exterior over $200K
2023 – Housing First ROMA (Remodeler of Merit Award): Residential Exterior
2022 – Midwest Home Design Award: Bar Category
2022 – Spinnaker Award-Minnetonka School District
2022 – NARI-MN CotY Award, Gold: Res Landscape Design/Outdoor Living $100,000 to $250,000
2021 – NARI-MN CotY Award, Gold: Residential Interior $100,000 to $250,000
2021 – NARI-MN CotY Award, Gold: Residential Addition Under $100,000
2021 – Housing First ROMA (Remodeler of Merit Award): Outdoor Living
2021 – Housing First ROMA (Remodeler of Merit Award): Lower Level
2019 – NARI-MN CotY Award, Gold: Residential Interior Over $100,000 to $250,000
2019 – NARI-MN CotY Award, Gold: Commercial Exterior, Interior, Specialty
2019 – NARI-MN CotY Award, Silver: Residential Interior Under $100,000
The Reggie Award of Excellence for Design and Construction
The Bennie Award for Best Association-Maintained Neighborhood
The Award of Excellence by the American Institute of Architects
Various years worth of Houzz awards, both in Design and Service