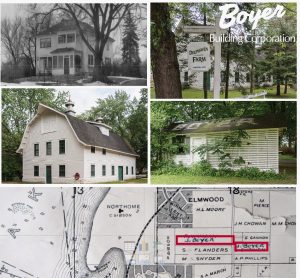 Let's talk LEGACY of CRAFTSMANSHIP.
The Boyer tradition of building began four generations ago, in the 1930s in Wadena County, Minnesota. If someone in the area needed a home built or a barn raised, Joe L. Boyer was the man to contact. A great deal of pride went into the structures he built and he often talked about his experiences, the homes he built, and the people he met. After World War II, Joe L. Boyer moved to Seattle to work as a foreman for a small boat-building yard, and he remained there until 1965 when he retired.
His son, Joe N. Boyer, moved to the Minnetonka area in 1946 after serving in the Navy and worked as a carpenter and foreman for prominent contractors. Eventually, Joe N. Boyer founded Joe Boyer Building. His premise was to focus on the values his father taught him. He acquired a solid reputation based on honesty and superior craftsmanship. The business flourished.
In 1983, Joe Boyer Building became what we are today, Boyer Building Corporation. Joe N. Boyer's sons, Bob, John, Joe C., and Paul, brought together the strength of their various educational backgrounds to continue the tradition started so many years ago.
The driving motivation for the Boyer Building Company remains "to provide a solid product that improves the quality of people's lives and to be the best at what we do." Now almost 37 years later, Boyer Building continues to be strong in the Remodeling AND New Build industry with some light commercial projects to round-out our expertise. Our great and experienced staff of professional field tradesmen and office staff help our customers realize their dreams.
Experience a LEGACY of CRAFTSMANSHIP – Boyer Building Corporation
(952) 475-2097 | boyerbuilding.com