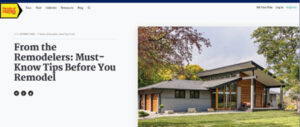 Appreciate being asked to be a part of
Housing First MN
  and Parade of Homes Twin Cities 's tips for Remodelers.
If you're looking to remodel, read on and get great tips from the experts including ours truly – Bob Boyer!
https://bit.ly/3oVgBWo
And if you didn't get a chance to look at our great remodel, featured here as the "face" of this blog piece, you can take a looksee on our Houzz site – link below in comments.