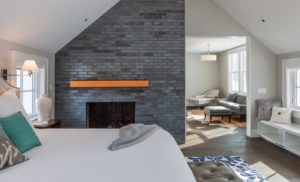 Cozy with a capital "C" – isn't that what we all want our homes to be?  Nothing better than a cozy room with a great fireplace…especially when Mother Nature shakes her snow globe on us. (Yikes! Sorry for the scary thought.)
This master suite exudes coziness throughout as it juggles the warm tones of the paint and fabric choices with the cool various gray tones of the fireplace brick.
Want to see more of this beautiful home…check it out here.