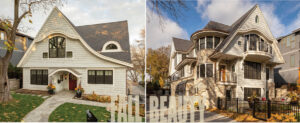 Talk about a fall beauty!
Let's put aside the fact that this new build faces one of our very favorite lakes in the Twin Cities, we too are in love with the natural stone elements, classic shake siding and always interesting eyebrow elements for a few windows and awnings.
We're simply in love all over again with this 2017 project.
[In collaboration with SALA Architects]