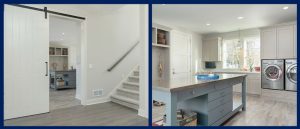 Multi-tasking is where it's at! 

Whether it be wrapping a gift (with wrap, scissors, etc. all handy), completing your weekly laundry chores, or having a place for everyone's coats and outdoor mudroom needs – this room has it all!
Need to better utilize your house for what makes sense to you? Give us a call.