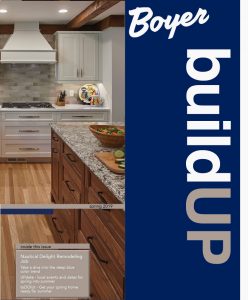 We are always thrilled when another Boyer BuildUP gets out the door to our clients and homeowners interested in our assistance with their projects or new build.  If you haven't received, you can read it here or contact us and we'll be happy to hand it off to you!
This issue has a great feature story on our beautifully completed remodel on Lake Minnetonka, where you can catch ALL the photos of this great remodel on our Houzz project profile, here.
In addition, we have a great piece written by Dura Supreme on why blue is such a hot color trend now.
BuildUP is written twice a year and is distributed at our showcase tours.