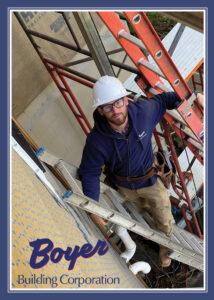 On this beautiful Monday, we have no pretty picture of yet another great project to post…we simply want to give a hearty SHOUT OUT to our Boyer crews who are on site, day-in and day-out doing their magic and making Boyer Building look good, project after project!
We are blessed with a team that upholds our good name and thanks to them, it's why clients keep coming back for their next project and why our referral base stands consistently strong. For this we are so very thankful!
Here, our very own Andy checks on the siding at our Greenwood job site.