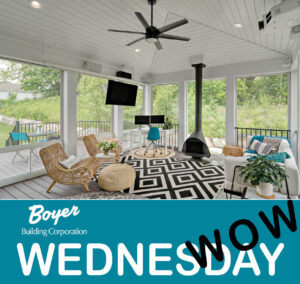 Who's feeling a little porch envy with this outdoor living space? Appropriately chosen for today's Wednesday Wow!
A three season porch (and new deck) was built on the backside of our homeowner's Chaska home. The goal was to bring the outside in, which is accomplished with screens all the way around!
Movie night doesn't get any better than this when the projector is ready to showcase the anticipated family movie on the big screen which drops down in front of the stationary TV.
Cue the popcorn and treats… AND the slight breeze from a nice summer night.