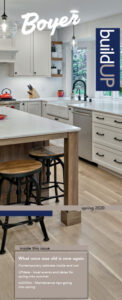 We were so excited to show you our latest remodel during this year's Remodelers Showcase that was understandably canceled.  But we CAN allow you to take a look-see into this great overall transformation through our latest BuildUP.  This bi-annual piece went out last week.  If you did not receive one, please let us know and we'll be sure to send one out to you.  Until then, you can read it here.
Additionally, if you would like to SEE this great home in person and are interested in the Minnetonka remodel, please contact us and we can give you a tour – with social distancing of course.
Boyer continues to be open, and as are our other remodel/build colleagues, we continue to lift up and market our industry with healthcare protocol in mind and standards adhered.